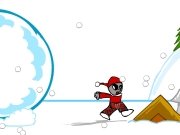 Snowball Fight Games Online - Play Fun Free Snow Ball Game
Get ready for some snow ball action we a great selection of fun browser games focusing on snowball fight and outside frozen fun. We can offer everything from fun Reindeer Games to action packed X-Mas War. Do you sometimes feel like throwing a hard snow ball in the back of the head of one the bullies at your school or maybe some annoying co-worker, but are afraid of the risk of getting caught or the consequences? Well, with these great online games you don't have to worry about that one, as you can just lean back in your favorite chair. But, expect to spend a few hours because these free online games could be very addictive. So, why not help the Combat Penguin, and show that you are true Snow Ball Warrior and have some fun!
Play a free Snowball game online today
Did you know that it is almost as fun to play an online snowball fight game as it is to win a Snow Battle outside? If you do, then you are probably allready getting ready to play one of our Snowball fight games online right now. If not, well then this is your chance to explorer hours of free Snow ball fight game entertainment. By sitting in front of your computer you stay nice and warm, also avoid getting injuries or getting sick from being wet and cold. If you are in the same mood as us today, then you probably would like to play a Snowball fight game online right now.
It's time for a Snowball battle
Put on your imaginary hand cloves, because it's time for a snowball battle (online off-course). Can you aim well? Make a great snow ball and aim at the opponents. You can play a kind of dodge-ball in a team or compete in a one on one snowballing battle. The most fun part of these online snowball fight games is, that you can throw snow balls in the middle of the summer. At this website it is always winter, which allows you to have some snow ball fun year round.