Snowball War Space Shooter Game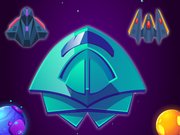 Snowball War Space Shooter Game Online - Play Free Fun Snowball Web Games
Flying your spaceship back home, after a long journey in the universe, to celebrate Christmas. Suddenly, a storm of snowballs is falling down toward you. Move your spaceship to avoid the snowballs and shoot them all up. Have fun!
10,203 play times
How to Play Snowball War Space Shooter Game
Use mouse or tap to drag the spaceship.