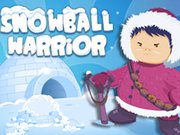 Snow Ball Warrior Game Online - Play Free Fun Snowball Web Games
You have already worn a crown of a true warrior in Antarctica. As a response, you have given a big task today. The main aim of the game is to defend the snowballs before destroying the Igloo. You can buy different rocks and weapons to destroy the difficult snowball. Upgrade your weapons and ammo to handle strong rocks. Have fun!
10,322 play times
How to Play Snow Ball Warrior Game
Move through arrow keys and release fire using space key in this ice ball shooter game! Rotate using the left and right arrow keys! Your enemies will keep coming to you regularly. Try to keep your eyes on the screen all the time to win this snow battle in your own style! Throw a snowball and try to hit your targets every time to complete each level fast in this time-based game.
What is a Snow Ball Warrior?
According tp WikiPedia a warrior is a person specializing in combat or warfare, especially within the context of a tribal or clan-based warrior culture society that recognizes a separate warrior class or caste. A snow ball warrior is usually a person participating in a snowball fight, a stimulating physical activity which balls of snow become warfare. The outdoor game is similar to dodgeball but much less organized. This snowcraft activity is primarily played during months when there is sufficient snowfall. There are plenty of Youtube videos you can watch to learn more. During the summer snow ball warriors usually enjoy other activities where water is involved. Sometimes these kids become water warriors armed with water balloons and squirt guns. Instead of becoming a warrior you may just want to play a free online flash game like Snow Ball Warrior instead here at FreeSnowGames.com.