Princess Winter Olympics Game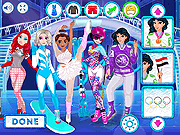 Princess Winter Olympics Game Online - Play Free Fun Winter Dress-Up Games
Now that the seasons are changing once again, it's time to start preparing for the exciting Winter Olympics. These fun Olympic games aren't for everyone. Only truly qualified athletes are invited to participate in these amazing games. Your task in this game is to help the Disney Princess Elsa and Anna, with Moana, with Ariel the Little Mermaid to get a new look. Very simple to play this game, you just use your mouse and click all the items as you like. Please remember that they will join the Winter Olympic, so you will help them to get the sport outfits. I hope that you will like this game and come back here to play more game. Have fun playing this game called Princess Winter Olympics!
10,470 play times
How to Play Princess Winter Olympics Game
Use your mouse or tap the screen to interact.
Famous Winter Olympic Snowboarders
There are not that many famous Olympic Snowboarders out there that are as great as Shaun White, or the female, Kaitlyn Farrington. There are however many Princess looking female snowboarders out there and they are very fashionable. To name a few we can check out the 2014 Women snowboarders at the Winter Olympics line up. These include Ina Meschik of Austria, Torah Bright of Austrailia, Alexandra Jekova of Bulgaria, and is a Silje Norendal of Norway. Not only are they considered the hottest, but their ski outfits were more than fashionable! We cannot forget the beautiful Sarah Burke who ended up getting serious injury incurred during a snowboard training accident and dies in 2012. Another gorgeous and magnificent Para-snowboarder is Amy Purdy. She is very special because she continued to take on this sport even though she is without legs. They all wear some of the most interesting and colorful ski attire out there. If you would like to become a part of t his fashion team, you can try out some different outfits by playing the fun and free Internet game, Princess Winter Olympics, here at FreeSnowGames.com.