Winter Snow Plow Driving Game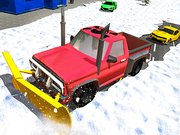 Winter Snow Plow Driving Game Online - Play Fun Free Action Snow Games
Heavy excavator snow plow games always remain interesting and the winter season begins in the city and the hilly areas. Glaciers are loaded with the snow there is a lot of danger for the people get ready and become professional for the operation to driveway the ice road jeeps. When winter comes the yard is constantly snowing, which sleeps the whole area. Because of this, the roads come to a dangerous state and quite often various accidents occur on them. Today in the game Snow Plow Jeep Driving you will work with the municipal service of a small town located in a mountainous area. Your duties include cleaning the roads from snow. Have fun!
12,448 play times
How to Play Winter Snow Plow Driving Game
WASD - Drive, mouse interact with buttons. Brake the snow glacier and help the people. Drive carefully on the sleepy roads. Strive to be the best Snow Plow driver as you are cleaning up the snowy streets.
The Definition of a Snowplow
A snowplow (also spelled snow plow, snowplough or snow plough) is a device intended for mounting on a vehicle, used for removing snow and ice from outdoor surfaces, typically those serving transportation purposes. Although this term is often used to refer to vehicles mounting such devices, more accurately they are known as winter service vehicles, especially in areas that regularly receive large amounts of snow every year, or in specific environments such as airfields. In other cases, pickup trucks and front end loaders are outfitted with attachments to fulfill this purpose. For sidewalks and narrow laneways small tractor plows (tracked or wheeled) are used in Canada and the United States. The first snowplows were horse-drawn wedge-plows made of wood. With the advent of the automobile, a number of inventors set about to improve existing snowplows.
Snow Removal is a Big Deal in Boston, MA
According to the City of Boston, residents needs to remove snow, slush, and ice from sidewalks and curb ramps abutting your property within 3 hours of snowfall ending (or 3 hours from sunrise if snow falls overnight) as required by law. Violators will be fined. Remove snow, slush, and ice from the full paved width of the sidewalk and curb ramp or a minimum path of 42 inches wide. Narrow paths encumber carriages and wheelchairs, and properly cleared pathways ensure flow and safety of pedestrian traffic. Don't shovel or plow snow into the street: Violators caught shoveling snow from private property into the Boston streets will be fined.