Princess Winter Makeover Game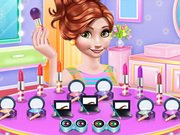 Princess Winter Makeover Game Online - Play Free Fun Winter Dress-Up Games
Our princess is preparing for a special winter event and your job is to perform a total makeover. First start with the make up, choose from different styles of make up and pick the one you think will fit with the event. After you finish with the make up you must find a beautiful outfit for our princesses so you can choose from lots of dress up items and accessories to design a special outfit. Have fun playing Princess Winter Makeover!
10,431 play times
How to Play Princess Winter Makeover Game
Use your mouse or tap the screen to play.
There are many Barbie like princesses on the Internet
There is something very mystical and fascinating when it comes to their beauty and when you search the Internet you can find many images of one of these Barbie like princesses. Their names can be found in snow movies, a novel, or even in a song. If you search for costume, dress, vine, and even chocolate candies, and even mabinogi you will find out more interesting facts about her. Although I am not sure why, it is still fun to know this. A very popular Ice Princess who became queen is Elsa from Arendale, in the Disney movie, Frozen and she fits the description perfectly. There are many exciting and entertaining Internet dress up games to play here at FreeSnowGames.com, including this free Princess Winter Makeover game.
Playing dress-up games is great for a Child's Creativity?
Creativity is defined as "a phenomenon whereby something new and valuable is formed". When a child or younger teenagers are allowed to create and design their own winter, summer, spring, or fall, or even princess fashion, their artistic abilities are triggered. It is important for kids to play dress-up because when preschoolers use their imagination they will gain vocabulary skills and confidence. There is a reason why you'll find a box of dress-up play clothing in most preschool classrooms. Because preschool teachers know that when kids use their imaginations, they also are working a host of other important academic and emotional muscles. Creative thinking grows with use and practice and while trying to figure out how to rescue dolls from the bad guys doesn't seem like a pressing issue to grown-ups, to the superhero child, it's a quandary that has to be figured out immediately.