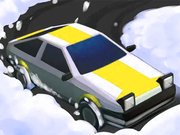 Snow Drift Game Online - Play Free Ice Road Driving Games
Look at the snow and open for yourself new car driving game. Do you want to sweep the snow away? But, you only have one car. To succeed you need to put your driving skills to the test. Have fun!
10,648 play times
How to Play Snow Drift Game
Use arrow keys to play this free online game.
Snow Driving Tips
An emergency winter weather kit is necessary to have in your vehicle if you live in an area of the world that gets extremely cold winters. This is just in case your car, truck, or SUV slips off the road, gets stuck in a ditch, or trapped out in the middle of nowhere. We checked out emergency.cdc.gov, and will summarize some of their fun and exciting tips that we found. Their first suggestion is have you vehicle thoroughly checked out in the fall, including the radiator system, the windshield wipers and fluids, and to replace worn tires and check their air pressure. If you do not have a set of snow-tires, it is recommended to get snow-chains. You can check the Internet for training on how to put on your chains if you are planning to become a snow driver in them. It is also important to keep your gas tank near full and to keep your car in overall working order. Something else that is strongly suggested is to have an emergency kit accessible your car to include the following: flashlight, ice scraper, cell phone, jumper cables, blanket, shovel, and first aid kit. It would also be a good idea to have some energy bars and maybe some of those handy hand and foot warmers that can be activated when needed. You should also make it a regular habit to bring freshwater with you to take in and out so it doesn't freeze in the car. You can just plan to drink it that day, but if you do it on a regular basis, you wont have to play the thirst game when you do get stranded. When you play this free and fun online web game, Snow Drift, you can not only apply these tips and gain you own affordable experiences, but you can also take exciting risks and break all the rules because on our website, driving is just an online game!