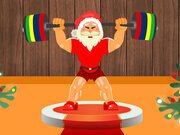 Santa Weightlifter Game Online - Play Free Fun Santa Claus Games
This is a casual game in which Santa Claus stands on the platform. You need to help with the suitable click to keep Santa Claus in balance and earn points, in the start screen. Gradually, the speed of the game is increased to make you confused. Use the mouse click or touch to keep Santa balance. Have fun!
10,391 play times
How to Play Santa Weightlifter Game
Use mouse or tap to screen to play this online game.
Saint Nicholas is a man with many names
When you check out the world wide web, you can find are all different kinds of Christmas games for kids and adults alike. You may find free and fun an online Santa game that includes Mr. Claus, (uncommonly known as Nicolaas Van Myra) jumping from one scary brick hotel ledge to icy lyceum ledge collecting cookies for energy and presents for kids all while avoiding dangerous situations to safely get to the corresponding chimney. You may find an elf, reindeer or even an animal game that characterize old Saint Nicholas, (St. Nick for short). There is the ever popular movie like A Christmas Carol which can be easily found on Youtube, and videos of songs like the one recognized by anyone over 6 months old: SantaClaus is Coming to Town. You may also find a tracker to follow the white bearded man and his reindeer on the 24th of December, or websites that ask us : Is Saint Nicholas real? Here at FreeSnowGames.com, you can play all sorts of exciting online games involving Saint Nicholas, enjoy yourself, and learn a little about this wonderful holiday too. You can help deliver gifts when you play our free and fun online game, Santa Weightlifter.
Tags: ClausSantaWeightlifter