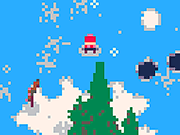 Winterwood Game Online - Play Fun Free Action Snow Games
This is a short but sweet game about trekking through the woods to make a special delivery. Mr. Jones and his dog always rest at the bench by the house. Whenever the dog wanders, he calls it back by his trusty whistle but one winter, he left behind his whistle. Try to search it in the middle of winter storm by following the trail. Mr. Jones lives in a cabin by the lake in these woods. Have fun!
10,102 play times
How to Play Winterwood Game
Use the arrow keys to move. Z or X key to rotate camera. P key to pause or access the menu.
Snowstorm in Winterwood
A snowstorm is a storm where large amounts of snow fall, and they happen quite frequently in Winterwood. A massive snowstorm with strong winds and other conditions meeting certain criteria is known as a blizzard. A large number of heavy snowstorm, some of which were blizzards, occurred in the United States during 1888 and 1947 as well as the early and mid 1990s. The snowfall of 1947 exceeded 2 feet with drifts and snow piles from plowing that reached 12 feet and for months, temperatures did not rise high enough to melt the snow. The 1993 "Super snowstorm" was manifest as a blizzard in most of the affected area, in Winterwood these types of storms are said to happen at least once a month. A large snowstorm could be quite dangerous: a 6 inch snowstorm will make some unplowed roads impassable, and it is possible for automobiles to get stuck in the snow. A snowstorm exceeding 12 inches especially in southern or generally warm climates will cave the roofs of some homes and cause the loss of electricity.