My Winter Wedding Dressup Game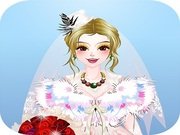 My Winter Wedding Dressup Game Online - Play Free Fun Winter Dress-Up Games
The lady of the hour will get hitched with her cherished one. On the wedding day, she will be the most delightful lady in the entire world. But before that day comes, the lady of the hour needs to pick the most lovely wedding dress and everything for her wedding that the happiest day in her life. So, she needs you to assist her with choosing the most beautiful wedding dress and everything else she needs to have. Hurry,the wedding is coming. Have fun!
11,124 play times
How to Play My Winter Wedding Dressup Game
Use your mouse or tap the screen to play. Playable on PC,smart-phones and pads.
What makes a Winter Wedding Beautiful?
The bride can wear a white, cream, casual, or even a dark dress with long sleeves and a matching coat. Her decorations can be bright and colorful, or white or dark. Sparkles and glitter entwined in the flowers, in her hair and scaling her skin, to be transferred to the guest dress, or even in and among the bridesmaids are great ideas for pictures of the perfect Christmas ceremony. It is fun to know that you can simply go online to look up amazing images and creative concepts for a graceful and mystical end of the year celebration of your lifelong commitment. There are many exciting stories, pictures, and even games to help you plan for the ceremony and reception. An alternative to all that stress though is to just sit back, relax, and play a free web game like My Winter Wedding Dressup, here at FreeSnowGames.com.
Can Playing Dress-Up Games improve a Child's Creativity?
According to WikiPedia creativity is defined as "a phenomenon whereby something new and valuable is formed". When a child or younger teenagers are allowed to create and design their own winter, summer, spring, or fall, or even princess fashion, their artistic abilities are triggered. When they do this, they are able to openly express themselves without judgment and this can be satisfying and fulfilling for an adolescent in a very competitive world. Some may believe that creativity is something that a child is born with, but it is actually a skill that needs to be developed throughout their childhood and can start with simple thinking and problem solving activities that are much needed in order to spark their imaginations. Playing a fun and free game online can help them begin.