Doll Creator Winter Fashion Game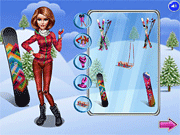 Doll Creator Winter Fashion Game Online - Play Free Fun Winter Dress-Up Games
The winter season is here and in our latest game called Doll Creator Winter Fashion you will create winter season outfits for our beautiful dolls. Create different outfits for every doll and in the end see who looks best. Have fun playing our latest dress-up game!
10,498 play times
How to Play Doll Creator Winter Fashion Game
Use your mouse or tap the screen to play.
Winter is a time to become a Fashionista in your ski outfit
Winter is a time to become a Fashionista in your ski outfit and try not to feel overloaded with layers. Depending upon how cold it gets outside where you live, your skiing outfit should be enough to keep you warm. It should be something that you like and hopefully it also looks cute! There are Ski Trip Packing list available on the Internet and it helps you to plan for a very fashionable ski trip and gives hints to how to stay comfortable too. There are other sites that discuss the hottest ski wear pieces to hit the slopes in at the hottest places of 2016. You may discover interesting ideas from celebrities as well. Even-though men have the chance ot buy many stylish clothes, they tend to continue wearing the same old trends every year. Fashion gurus say it is because of what they are used to and what is comfortable to them. Guys sometimes forget that they are wearing something that was popular in the 1980's, even-though that fashion was cool almost 40 years ago. If you date, or are friends with a guy who is wearing out of style winter clothes, you can check out stores such as Forever 21 and Old Navy for some tips and articles. It is more fun to become your own ski outfit builder though and to get you started, you may just want to play the fun free Internet game, Doll Creator Winter Fashion, here at FreeSnowGames.com.