Valentine's Day Mahjong Game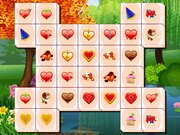 Valentine's Day Mahjong Game Online - Play Free Fun Valentine's Day Games
Simplified classic Mahjong game with Valentines theme. You can eliminate pair of similar items. You can select only those pairs which have at least 2 adjacent sides open. Hints can help you. Try out this unique version of the classic Mahjong game. Make connections between the matching tiles while you fight to keep up with the clock. Can you clear the board before time runs out? Unused hints and saved time will be awarded as bonus. Have fun!
11,254 play times
How to Play Valentine's Day Mahjong Game
Use mouse or touchscreen to play this web game.
Mahjong is all about dragging and dropping Tiles
Mahjong is a relatively simple game. The aim of the game is to get as complete a game picture as possible by dragging and dropping bricks. You can start dragging from the living end of the wall or dropped stones of players. A complete game image is composed of 14 blocks: a pair and groups of three or four of the same stones or a sequence of consecutive blocks. The first player to achieve a complete game image (with the highest possible score) may call Mahjong and has won the round. If a lot was previously agreed on, this means that four rounds are to be played.
Tags: Mahjong