Baby Hazel Valentines Day Game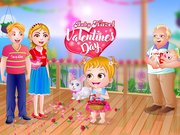 Baby Hazel Valentines Day Game Online - Play Free Fun Valentine's Day Games
Yuppie! It's Valentine's Day. It's the season of love and romance. Baby Hazel is keen to celebrate Valentine's Day with her Mom and Dad along with Grandpa, little Matt and her pets. As her parents are out, she along with her Grandpa plans to surprise parents by arranging party and makes gifts. Wanna know what she gifts them? And what else she does to surprise her parents? Sshh! Baby Hazel wants to surprise them. So, hurry up! Celebrate this Valentine's Day with Baby Hazel and her family. Have fun!
10,230 play times
How to Play Baby Hazel Valentines Day Game
Use mouse to interact with Baby Hazel.
Who is Baby Hazel?
You probably recognized her from 100s of games all over the web. Hazel is the main protagonist, first appearing in 2012. Hazel lives with her mother,her father, and her younger brother Matt. Hazel appears in every game in its series. Hazel has long blonde hair that she keeps tied up in two short pigtails with bows. She has wavey bangs in the front and small eyebrows, along with light brown eyes (inherited from her mother). Her outfit for every game changes. Hazel is virtually very childish and often whiny, note, in a short amount of time if her needs aren't fulfilled she'd start crying. Baby Hazel shows a liking to playing over anything else. Sometimes though, this can be a distraction to the things she has to do. She frequents playing on her tablet or with many other toys. Baby Hazel shows disdain for the action of people taking away the things she enjoys, along with things not going her way and not ending in a positive manner. Baby Hazel is known for being a bit of a crybaby, crying when in pain, when she's not getting something from the player in time, and when her parents don't allow her to do something.
Tags: BabyHazelValentines