Winter Monster Trucks Race Game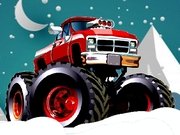 Winter Monster Trucks Race Game Online - Play Free Ice Road Driving Games
If you think you've already proven your 4x4 truck driving skills along some of the most hostile circuits in the world, while enjoying all kinds of apparently so very challenging monster truck games online, that you've already passed all the most challenging endurance tests that an extreme monster truck driving competition implies, well... then you're wrong. This is the ultimate test you need to take before you can honestly call yourself "the ultimate monster truck driver". Face the challenge that this harsh, highly discouraging environment. Winter Monster Trucks Race is fun racing game suitable for all ages. Drive around and earn some coins to buy you a better monster truck to complete all levels. ou'll find yourself in the situation of noticing that your huge, powerful tires are not as reliable as they once looked. Have fun!
11,150 play times
How to Play Winter Monster Trucks Race Game
Arrow keys or tap to play.
Ice Driving in The Arctic Polar Region
According to the experts at IcyRoadSafety.com, when venturing out on an the icy roads, there are many safety tips to remember. The #1 ice driving safety tip is to SLOW DOWN to a speed of 45 mph or less on highways, and reduce speed to much less in residential areas and in town, depending on the speed limit and weather conditions. Black ice is very dangerous and should be avoided if possible. The #2 tip is to just to not drive at all when the road is icey. Another tip is to not brake too hard, as braking can cause sliding and loss of control of your vehicle. Another factor that is discussed is turning into a slide meaning you should turn the steering wheel in the same direction that the rear end of your car is sliding. One thing I have learned is that you need to have a good set of tires on your vehicle when driving on the ice! When you play this free and fun online webgame, Arctic Monster Truck, you can not only apply these tips and gain your own affordable experiences, but you can also take exciting risks and break all the rules because on our website, driving is just a game!
What is an Arctic Monster Truck used for in real life?
They are not only vectors with large wheels that you play in a game. According to ArcticTrucks.com, these Four Wheel Drive, all-terrain vehicles are created by their company to be used for extreme driving in areas that are very difficult to operate a normal car. These 15 and 17 inch wheeled pick-ups and landcruisers are used to drive in the mountains, on glaciers, and even in the desert by rescue teams, police, and the military. Sometimes they are needed by logging, construction, or electrical companies, and once in a while an order comes in from a regular person who just wants to drive such an fun and exciting machine! The company Arctic Trucks has produced these awesome vehicles in Iceland and Norway for several years now.