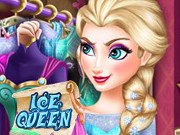 Ice Queen's Closet Game Online - Play Free Fun Frozen Html5 Games
Ice Queen's closet is a mess and she needs you to find some of her wonderful things. Look for the hidden items quickly, as time is short, and watch her try out different outfits. After you've finished the quest pick a dress you think it suits the Ice Queen best from the royal wardrobe and she will be ready for another day in her spectacular. Have Fun!
11,078 play times
How to Play Ice Queen's Closet Game
Use your mouse or move your finger on touch screen devices to play this free online html5 game.